Don't forget to enter in our giveaway for your chance to win some FREE Eye Candy! Click
here
. We are also offering
FREE shipping
thru July 6th, on all domestic orders. Use code FREEDOM at check out! Thanks for being such awesome readers!!
****************************************

Have you heard of this blog?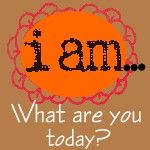 Read
here
about how "I am..." came about. Megan from
Brassy Apple
, is the creative genius behind it. She is an inspiration! She has different themes going on every month, and July is "Enjoying Summer." I entered in a photo of M and Me and it's being featured on
the blog
today!! So fun! Be sure to leave her some comment love from us!
Speaking of Summer...
Have you heard of a bucket list? Well around here we definitely support lists, goals, and dreams. And even more importantly, we like them to be carried out. With that being said at the beginning of this summer the hubs and I made our own fun Summer bucket list.


I grabbed some clothes pins, a Sharpie Marker, and a drink holder bucket and went to town.
As we complete each fun activity, we throw the pins into the bucket! It's been so fun!
Then last week I needed to use the bucket for a party we had... so... I whipped up another "bucket" for us to use. I used one of M's empty formula cans (I can't seem to throw these away... anyone else with me?), some scrap paper I had left over from my
Weekly at-a-glance calendar
, and stickers. Now it matches our kitchen decor and can be used well after summer is over! Love it!
So even tho summer is technically half way over, it's never too late to start a Bucket List ;)
********************************
Even with the 4th of July holiday right around the corner we are still hosting our weekly linky party
"Strut Your Stuff Sunday
," tomorrow! Be sure to link up your latest creations! We can't wait to see what you've been up to! Hope you all have a wonderful Saturday!
Linking up to some fabulous parties
here
.